[From the harmful effects of] companionship with those who are bad…
"Reveal that part (portion) of your body which can endure the fire of Hell."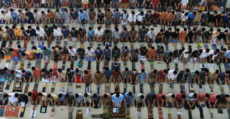 Reference: https://twitter.com/sultanal3eed/status/969508501457395713?s=21 🔹في الحديث عن نبينا ﷺ قال:" إذا أراد الله بعبد خيراً طهَّره قبل موته، قالوا: وما طُهور العبد؟ قال: عمل صالح يُلهمه إياه حتى يقبضه عليه". #صححه_الألبانيفاللهم اختم لنا بخير طهور، وأحسن عمل.#حسن_الخاتمة#الجمعة — سلطان العيد (@sultanal3eed) March 2, 2018 Authenticated by al-Albaanee The Prophet (sal-Allaahu 'alayhi wa sallam) said: «If Allaah wants […]
I accompanied ['Abdullaah] Ibn 'Own for 24 years, and [during that time] I am not aware the angels recorded any sin against him.
A believer will never be complete until he prefers his religion over his desires, and he will never perish until he prefers his desires over his religion.
ar-Rabee' [ibn Khuthaym] was the most pious of the companions of 'Abdullaah.
Is the death of the scholars, and the passing away of the righteous [ones considered] from [amongst] the signs of the end of time and the the [Last] Hour?